Week of Jan. 28, 2019 (Jessica Parks)
3 years ago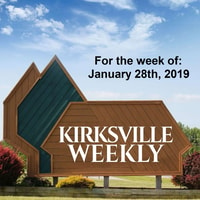 We talk with Jessica Parks, owner of Take Root Cafe and candidate for the Kirksville City Council. We also hear from Austin Miller with a look into Kirksville sports.
Connect with Jessica Parks.
Like us on Facebook! Be sure to subscribe so you don't miss an episode!
Contact us at [email protected] with topics you'd like to hear discussed.
This podcast is powered by Pinecast.